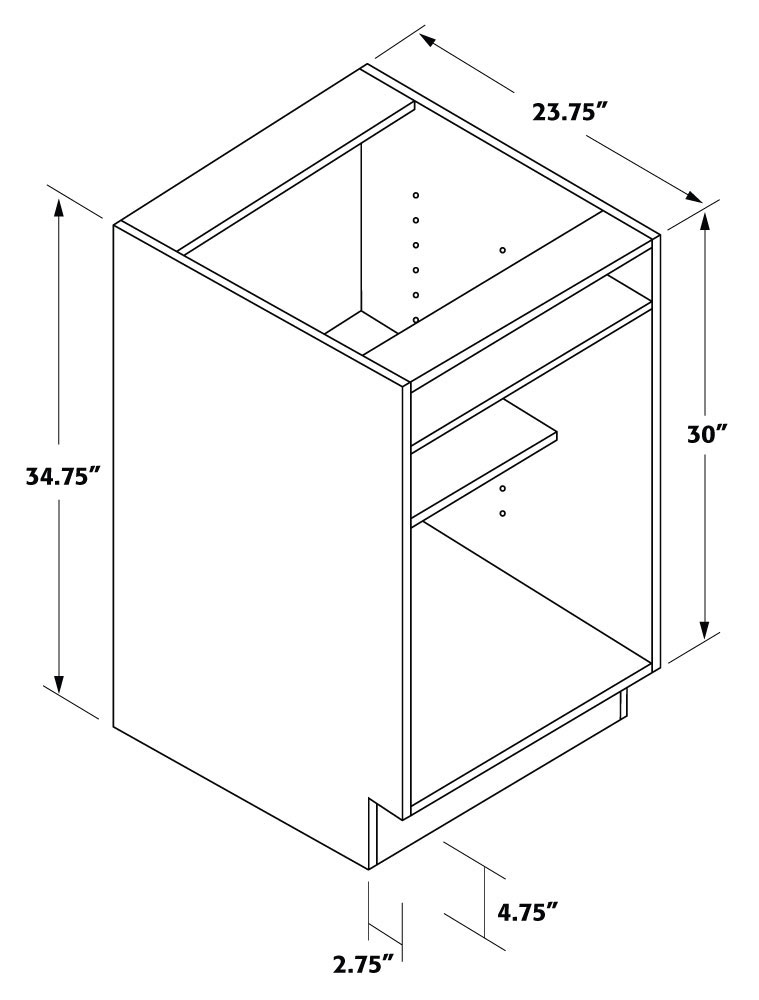 Cambium cabinets benefit from an enhanced European frameless construction, to provide the most attractive, practical and durable construction possible.
No restrictions to storage space, allowing maximum access and convenience.



Constructed with a 5/8" industrial grade high-density particle board, covered with high durability melamine.



Joined with precision-fitted hardwood dowels and strengthened with high-performance glue to ensure the most solid construction possible.



Cabinet interiors of wood grain door styles are finished in beautiful light maple while interiors of cabinets with painted door style are finished in white for a matching, fresh and easy-to-clean look.



BLUM** Fully concealed European clip-on hinges allow for excellent access, are 6-way adjustable for perfect alignment and have a Lifetime Warranty*. Soft close option also available, for an even quieter experience when closing the door.



The adjustable shelf is supported with metal shelf pins, and finished with melamine for easy care with maximum strength and durability. Full-depth adjustable shelves in wall cabinets allow for maximum storage space, while ensuring full flexibility with the layout of your cabinet.



Front edges of the integrated gables are color-matched to the door ensuring a more consistent look.



Exposed sides of your cabinets are finished with the same careful process for stained wood or painted surface as your doors and drawers to ensure a beautiful consistent finish throughout your kitchen or bathroom project.



Each base cabinet has a pair of full-width stretchers atop, and a spreader directly below the drawer. Top and bottom nailers in back of the base cabinets allow for ease of installation. All these components are made from the same high quality 5/8" material as rest of the cabinet box, adding superior strength and stability to the finished cabinet.



The wall cabinets have full 5/8" backs for a super strong box without worrying of "punching through" a 1/4" back during installation.



Metal drawers with nylon rollers ensure smooth operation every time. Soft close option also available, for an even quieter experience when closing the drawer.